Park ecologist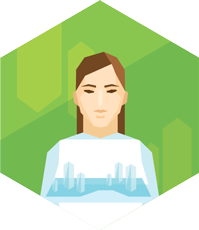 The profession appears before 2020
Professional in charge of monitoring and analyzing the environmental condition of public spaces (parks, boulevards, squares, alleys, etc.), development and implementation of solutions for landscaping, populating territories with animals and insects, and other measures to maintain environmental balance in urban green areas. For example, Royal Parks, a London-based company in charge of eight city parks, employs its own staff of environmental specialists responsible for 418 rare species of plants, animals and mushrooms. On the other hand, the specialty may be regarded as a new version of the long-existing trade of urban ecologist, which appeared as early as in the 1970s.
Professional skills and abilities
Systems thinking (ability to define and work with complex systems, including system engineering).
Cross-industry communication skills (understanding of technologies, processes, and market conditions in different related and unrelated sectors).
Ability to manage projects and processes.
Multilingual and multicultural abilities (fluent English and knowledge of a second foreign language, understanding of the national and cultural context of partner countries, and understanding of job specifics in foreign industries).
Ability to work with teams, groups and individuals.
Environmentally conscious thinking