Living systems designer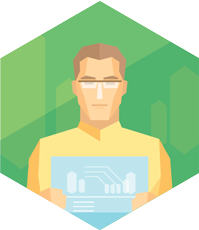 The profession appears after 2020
Specialist in planning, designing and creating closed-cycle technologies involving genetically modified organisms and microorganisms. This type of professional will be irreplaceable in sustainable cities, as they will be able to calculate the required capacity of bioreactors, design urban farms, and elaborate waste recycling systems.
Systems thinking (ability to define and work with complex systems, including system engineering).
Cross-industry communication skills (understanding of technologies, processes, and market conditions in different related and unrelated sectors).
Ability to manage projects and processes.
Lean manufacturing, production process management based on permanent focus on removing all types of waste, which implies involving every employee in the business optimization process along with maximum client focus.
Multilingual and multicultural abilities (fluent English and knowledge of a second foreign language, understanding of the national and cultural context of partner countries, and understanding of job specifics in foreign industries).
Programming IT solutions / Managing complex automated systems / Dealing with artificial intelligence.
Client focus, ability to address customer requests.
Environmentally conscious thinking