Space biologist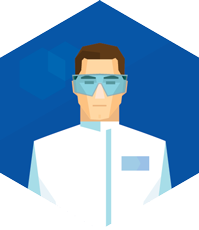 The profession appears after 2020
This specialist studies the behaviour of various biological systems (from viruses to animals and humans) in space (structures, spacecraft, planet bases); studies the physiology and genetic changes of organisms; develops stable space ecosystems for orbital stations, Moon bases and lengthy journeys.
Professional skills and abilities
Systems thinking (ability to define and work with complex systems, including system engineering).
Cross-industry communication skills (understanding of technologies, processes, and market conditions in different related and unrelated sectors).
Ability to manage projects and processes.
Multilingual and multicultural abilities (fluent English and knowledge of a second foreign language, understanding of the national and cultural context of partner countries, and understanding of job specifics in foreign industries).
Programming IT solutions / Managing complex automated systems / Dealing with artificial intelligence.