Transmedia product designer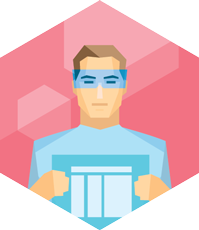 The profession appears before 2020
Specialist engaged in designing content (characters, stories, conflicts, problems, educational content) and services for several mass media at once (TV programmes, games, etc.). He/she should be able to build a coherent system of interaction between different formats (consistency of character images and interrelation/consistency of stories involving them). The job will require unconventional thinking. For example, in one American school, students working on an art project encoded the text of a poem as software code, imported it into the Scratch training animation program, and then into LEGO Mindstorms EV3, a robot programming language. The interactive children's series Inanimate Alice uses text, video, images and interactive games.
Professional skills and abilities
Systems thinking (ability to define and work with complex systems, including system engineering).
Cross-industry communication skills (understanding of technologies, processes, and market conditions in different related and unrelated sectors).
Ability to manage projects and processes.
Multilingual and multicultural abilities (fluent English and knowledge of a second foreign language, understanding of the national and cultural context of partner countries, and understanding of job specifics in foreign industries).
Client focus, ability to address customer requests.
Ability to work with teams, groups and individuals.
Creative abilities, developed aesthetic taste.